Jewellery tutorial - how to use a wire guardian
Wire Guardians or Wire Protectors guard your stringing material from the everyday wear and tear caused by toggles clasps or other findings. Finishing a necklace or a bracelet with Wire Guardians also ensures that you get nice, neat, even-sized, professional looking loops at each end.
How to use a Wire Guardian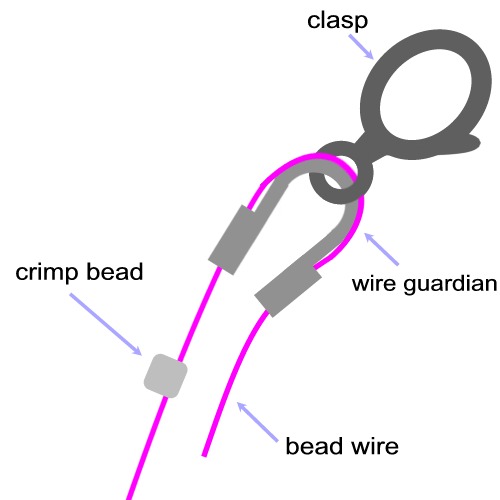 Thread a crimp bead onto your stringing material followed by a Wire Guardian. Make sure the wire lies in the channel. Hook the threaded Wire Guardian on to one of the clasp halves. If it won't go on open it slightly with pliers.
Slightly pinch the Wire Guardian so that the two ends touch gently together. Then pass the end of the stringing material back through the crimp bead. Crimp the crimp bead, trim the short end of the wire and begin beading. Repeat at the other end of your necklace or bracelet for a lovely neat finish.