Beaded Dangle Pendant
The beauty of this pendant is that you can use any oddments of beads you have lying around and you can choose the beads to match your outfit.
In fact I started with the dress fabric, chose beads that matched and then made up the pendant (see below).
The only skills you need are how to make a wrapped loop and how to open a loop.
To make this pendant you will need
3.5cm of Silver-Plated Chain with holes large enough to get several wires through
20-25 Mixed Beads
20-25 Silver-Plated Head Pins
1 12mm Hanging Bail
1 Rattail Satin 18" Thong Necklace
Chain nose pliers
Round nose pliers
Wire cutters
If you are not sure what any of these items are please have a look through our jewellery making glossary.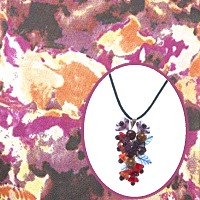 Instructions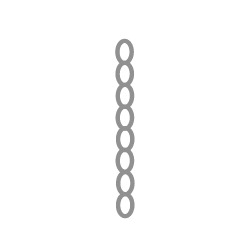 Step 1
Cut approximately 3.5cm of the Silver-Plated Chain.
Step 2
Open the bail 'side-ways' (see how to open a jump-ring).
Insert the top link of the chain into the loop on the bottom of the bail and close it again.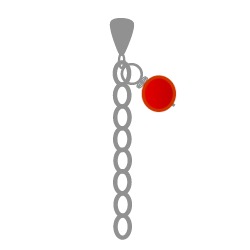 Step 3
Now you can start to add the beads.
Work from the top downwards and start with the biggest beads.
Put each bead on a head pin and attach it to the chain with a wrapped loop.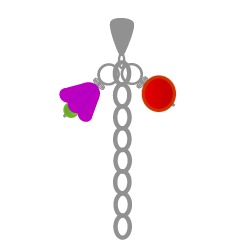 Step 4
If you are using flower beads put a 4mm bead on the head pin first and then the flower bead.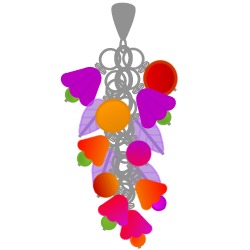 Step 5
Add at least 2 beads into each loop on the chain and carry on until you reach the bottom.
For every 2 or 3 beads you add, check the pendant is falling right and looks balanced by holding it by the bail and seeing how the beads drop.
If it looks a bit thin in one area add another bead into that chain loop.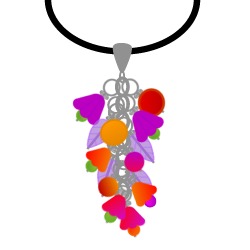 Step 6
Thread the bail onto a chain or thong necklace and it is ready to wear.